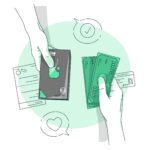 "Cash Only?": Why You Need to Diversify Customer Payment Options
September 27, 2023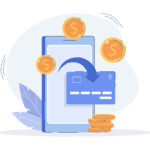 Bringing Efficiency to Mobile Payment
September 27, 2023
We've been buying the same brand of coffee for 15 years now. I counted at the grocery store last week and there were 12 different coffee brands to choose from, and still every week, I zero in on our favorite brand and toss it in the cart without glancing at the others. Why do I keep going back? It's really very simple – I know I'm going to get a great cup of coffee every time, I don't have time to stand in the coffee aisle for 20 minutes considering the pros and cons of 11 other brands, and it's almost an instinct now. Smirk if you must, but I'd be willing to bet that you have more than a few brand loyalties lurking in your pantry too.
If you're a business owner, you don't need anyone to tell you that inspiring customer loyalty is important, or that it can feel like really hard work. Finding innovative ways to connect with customers may seem intimidating, but it's vital to creating a sustainable business. It's money in the bank! According to the Harvard Business Review, pulling in a new customer is anywhere from 5 to 25 times more expensive than retaining an existing one. Not only that, but existing customers spend 67% more than new customers and 82% of U.S. adults say they're loyal to specific brands. We'll give you a minute to pick your jaw up off the floor… Think about it – you don't have to use valuable time and resources searching for new customers — you just have to keep those you already have, happy. This means you can't afford NOT to think about ways to keep your customers coming back.
Convenience is King
These days, convenience is a primary driver for purchases of all kinds. Remember when we used to have to turn a key to start a car? Not anymore! Now, we simply push a button, and turning a key seems archaic. Remember when phones had cords and you could only watch your favorite cartoons in real time, on Saturday mornings? Kids these days really have no idea! The rise of technology has given us a never-ending supply of options for almost anything we want or need. That means expectations surrounding offered products and services, and customer service is very high. Customers are smart. They know if the quality is poor or service is lacking, there will always be another option. Part of your business's success is dependent upon making the decision painless, intuitive, and easy. You have to make it harder for customers to choose NOT to purchase from you.
On a Mission to Create More Than a Product
If you hear the words, "Just Do It," you think of Nike. If you see a particular piece of fruit with a bite missing you know that device is made by Apple. Iconic brands like these create a diverse and ever-growing array of products and services, but the loyalty of their customers is driven by what those brands represent. Want to take your fitness to the next level? Nike inspires thoughts of sporting or athletic excellence. Need easy-to-use, high-quality technology? Apple has become synonymous with intuitive technological innovation.
So, how do you create a brand based on a mission, instead of just another product? You get to know your customers – how they view themselves, what they value, and what makes their lives easier. Once you know that you're well on your way to taking those happy, satisfied customers and turning them into brand loyalists that can help propel your growth. Discounts are a place to start, but the fact that people report coming back to the same brands reminds us that if a customer trusts and loves a brand, the value they get from being a customer must outweigh the benefit of a lower price or a similar product from another brand.
Here's where customer loyalty programs come in handy. Are you currently offering a convenient customer loyalty program or are you still handing out punch cards and coupons (no one ever remembers to have handy) in a wallet they may or may not even carry? Do you see where we're going with this? If it's inconvenient, you're wasting your effort.
Yevma: The Built-In Customer Loyalty Program You Need
Think of offering loyalty as an important part of your daily operations, just like maintaining inventory or staffing the front of the house. You use inventory control or ordering systems and HR scheduling systems to make those areas operate more efficiently and at a lower cost. Why not find a way to leverage technology to support customer loyalty, too? Yevma offers you a complete, loyalty program that doesn't require account signups or passwords (who has time to think up ANOTHER password?). We process the payment with a built-in loyalty program and neither you nor the customer need to do anything special. Bringing you greater service and value with a single technology solution is who we are.