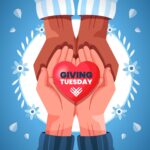 Giving Tuesday
October 6, 2023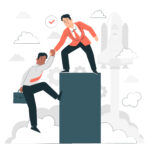 Steps for a Successful Fundraiser
November 17, 2023
Welcome back to another edition of Fundraising Secrets. Today, we spotlight one of the most influential fundraising strategies: Peer-to-Peer (P2P) Fundraising. With stats in hand, let's dive into its unmatched potential!
The P2P Fundraising Blueprint
P2P fundraising hinges on the influence of your supporters. Instead of reaching directly to donors, you empower your current advocates to tap into their networks. The magic? An exponentially amplified reach!
Numbers Don't Lie: The Might of P2P 📊
Broadened Horizons: On average, an individual has about 155 social contacts. The outreach potential, when each supporter delves into their network, is massive!
Trust Factor: Nielsen's Global Trust Report highlights that 83% trust peer recommendations over traditional advertising.
Growth Trajectory: Nonprofit Source points to a 2.7% annual increase in P2P funds.
Donation Size: P2P donors tend to be generous. Blackbaud's Study reveals the average P2P fundraiser rakes in $568 from just seven donors.
P2P Meets Digital: Social Media's Role 🌐
The digital age is a boon for P2P fundraising. Platforms like Facebook enable effortless sharing, amplifying campaign reach.
✨ Digital Tidbit: Online donations due to P2P sharing now account for 33% of the total, as indicated by Nonprofit Tech for Good.
Integrating SMS Donations 📱
A simplified donation process often leads to higher engagement. SMS donations, given their immediacy and ease, perfectly complement P2P campaigns. By embedding a seamless SMS donation tool, you empower your supporters to mobilize funds swiftly.
Explore our SMS donation tools at Yevma to elevate your P2P campaigns.
P2P In Action: Real-world Impact 🌍
Take the Ice Bucket Challenge for instance. This viral P2P campaign garnered over $115 million for the ALS Association in 2014.
Optimizing P2P: Strategies for Triumph 🚀
Equip Your Champions: Provide supporters with tools and resources.
Celebrate Achievements: Acknowledge and applaud your peer fundraisers.
Embrace Tech: Platforms specific to P2P can significantly simplify the fundraising journey for your champions.
With the evolving fundraising landscape, P2P stands out, synergizing personal trust with technology's expansive reach. Dive deep and unlock its potential for groundbreaking campaigns!
Stay connected for more insights. Together, let's reshape the world of fundraising!