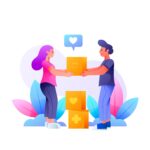 Fundraising Secrets: The Power of Peer-to-Peer Fundraising Strategies
October 9, 2023
Define Purpose & Goals 🎯

Identify the specific cause or need.
Set a clear financial target.
Decide how the funds will be used.



Choose Fundraiser Type 🎉

Research different fundraising models (events, online campaigns, etc.).
Consider your target audience's interests.
Choose a model that aligns with your resources and goals.



Budget & Timeline 📅

List all potential expenses (venue, marketing, etc.).
Estimate expected revenues (ticket sales, donations).
Create a detailed timeline with key milestones.



Assemble a Team 👥

Identify roles and responsibilities (marketing, finance, logistics).
Recruit volunteers or staff members.
Hold regular meetings to track progress.



Identify Your Audience 👀

Analyze your potential donor base (demographics, interests).
Tailor your message to resonate with this group.
Create a list of potential major donors or sponsors.



Marketing & Outreach Plan 📣

Develop a branding strategy (logos, themes).
Utilize multiple channels (social media, email, flyers).
Plan a schedule for consistent communication.



Secure Sponsorships 💼

Identify businesses or individuals who align with your cause.
Create sponsorship packages with benefits for sponsors.
Reach out with personalized proposals.



Use Technology 🌐

Select online platforms for ticketing and donations.
Set up a website or page for the fundraiser.
Use social media and email tools for promotion.
Explore our SMS donation tools to elevate your campaigns.



Execute the Fundraiser 🚀

Oversee all aspects on the day of the event.
Ensure team members know their roles.
Engage with attendees or donors throughout.



Show Appreciation 🙏

Send thank-you emails or letters.
Share impact stories and how the funds will be used.
Recognize volunteers and staff publicly.



Evaluate & Report Back 🔍

Analyze financial results against goals.
Gather feedback from participants and team members.
Share a detailed report with stakeholders.



Plan for the Future 🌟

Discuss what worked and what can be improved.
Document lessons learned and best practices.
Start planning for the next fundraiser.